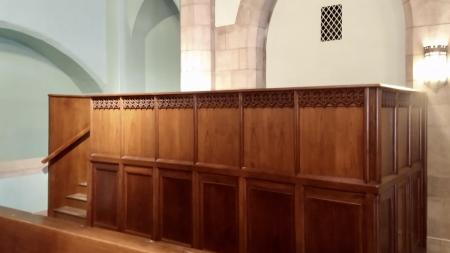 Cathedral of the Incarnation
The Cathedral of the Incarnation in Baltimore, like so many organizations today, has had to make adjustments to survive during the pandemic. They came to us with a unique problem to solve. Could we repurpose hardwood materials from an existing entryway at the rear of the cathedral into a sound-booth for broadcasting sermons to their quarantined congregants? 
The stained leaded glass and red oak were neatly disassembled, packed and shipped to our shop. We fabricated and reconditioned the oak trim and panels into new modular components to be reassembled on-site as a new sound-booth. 
The finished booth retained the look of the original hand-wrought entryway while housing the church's high-tech broadcast components. The look was so complete and the build so functional, our client commented that most people thought the new sound-booth was part of the original woodwork. And in a way, it certainly is.