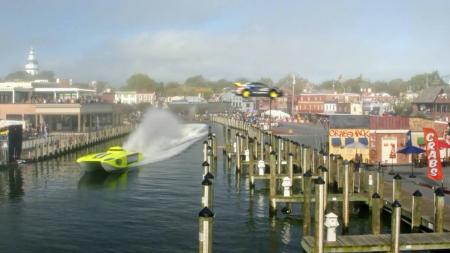 HOONIGAN - Gymkhana 2020 in Annapolis, MD
The HOONIGAN production team hired us in fall 2020 to build sets and scenery for a film they were shooting on the streets of Annapolis, MD. Stunt driver Travis Pastrana would be making a jump across a narrow inlet of water in his custom-made Subaru WRX STI. The ramps positioned on opposite ends of the pier would be disguised to look just like the store fronts and restaurants found on an Annapolis street.
Shooting would begin in less than a week, so we knew we would have to repurpose some existing materials to meet the deadline. Working with the client's production designer, and reviewing some of the local architecture, we specified the right parts to begin the build process.
Additional elements were then added: A custom sign and a giant, oversized shipping pallet, upon which another high performance Subaru would be precariously perched, in order to make a cameo in the film.The row of building facades were installed on the landing ramp on time and Travis Pastrana made the jump across the water safely, neatly landing on the fake buildings 'rooftops'.
The crowd was thrilled, the client was ecstatic and the film recorded over 12 million YouTube views in its first week of release.